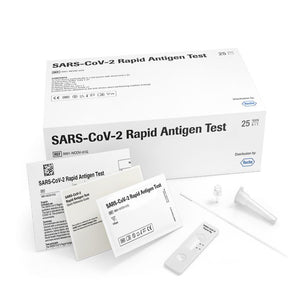 This Roche Antigen testing kit facilitates the detection of COVID-19 with rapid return of results.
The SARS-CoV-2 (COVID-19) Rapid Antigen Test enables fast decision making e.g. whether patients need to be put in quarantine, reducing the risk of further spreading. In addition to that it allows for screening of individuals after confirmed exposure to a SARS-CoV-2 (COVID-19) infected person or individuals at risk of exposure such as healthcare workers.
Benefits
Getting a quick result within 15-30 minutes – no need for a follow-up appointment to discuss the result
Easy handling which does not require specific training
No instrument required
Allowing decentralized testing or access to testing in areas where laboratory testing is not available
Each kit contains 25 individually packaged, ready to use tests containing all equipment needed to perform a test, and comprises of:
Test device – individual foil wrapped with desiccant
Extraction buffer tube
Sterile swab and Nozzle cap
Film (to attach to test device to facilitate outdoor testing)
Instructions for use and Quick Reference Guide
Features 
Five simple steps, with results after 15 minutes
Quick and Easy to read result
Excellent performance,

 

Sensitivity 96.52%

 

and

 

Specificity 99.68%
UK Government approved test kits under the manufacturer name of SD Biosensor

 



Sensitivity: the ability of a test to correctly identify patients with a disease
Specificity: the ability of a test to correctly identify people without the disease
This product is strictly intended for professional use.
This item line is exempt from our usual returns policy. This item is non-returnable or exchangeable.