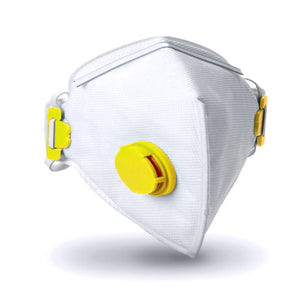 Protects against solid liquid particles including oil based mists Applications:. Mining, Construction, Iron and Steel Industries, Welding and Moulding. Protects against Wood Dust, Aluminium. Gypsum, Graphite, Magnesium Oxide, Platinum, Coal, Lead, Chrome, Silica, Welding Fumes, and many other general hazards.
Technical Specification: Lightweight - 3g.

Multi layered filter medium combining electrostatic charge. Ergonomically shaped for comfort and ease of use.

Adjustable head straps to provide individual fit. Adjustable nose clip to ensure good seal around nose.

Colour coded for ease of identification. Individually packed complete with instructions for use.

Conforms to the European approved standard EN149 2001.

Non-allergenic. Exhalation Valve added for easier breathing EN149 FFP 2 provides a protection factor of 10 x A.P.F. (Assigned Protection Factor) and 12 x N.P.F. (Nominal Protection Factor)

Useage: RESPAIR 2V can be used in atmospheres containing particulates as defined in the current H.S.E. document EH40 to provide a level of protection of 10 x A.P.F. and 12 x N.P.F.

If there is a requirement for a higher level of protection the next level is FFP3V providing protection of 20 x A.P.F. and 50 x N.P.F.

Unique Filter Medium The unique filter materials exceeds the requirements of EN149 2001.

Exhalation Valve minimises heat build up, and allows breathing to be cooler. Ergonomically Designed allows freedom of speech, an easy fit minimising leakage providing a high level of protection and comfort plus complete compatibility with all other forms of protective equipment giving an especially clear field of vision.

Box of 10.