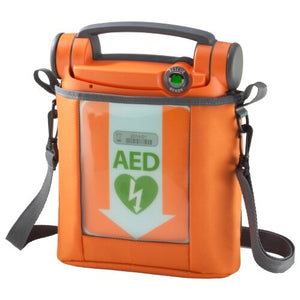 This economical carry sleeve provides protection for your G5 defibrillator and allows easier transportation. The sleeve has adjustable straps for comfort, a clear panel at the front allowing the expiry date of the defib pads to be viewed, and a zippered pocket to the rear providing storage for additional pads.
Protective sleeve with adjustable straps
Suitable for Powerheart G5 AEDs
Clear panel at the front leaves pad expiry dates visible
Rescue Ready® indicator remains visible at all times
Zippered pocket for storing additional pads
Colour co-ordinated with the G5 units
Please note: There is presently a nationwide shortage of Cardiac Science G5 products. Unfortunately we cannot advise on a lead time for products that we do not currently have in stock so please disregard any expected dispatch dates.