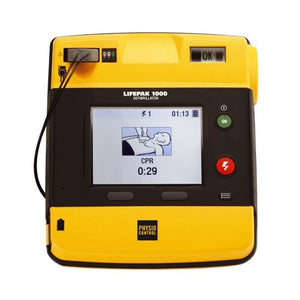 The Lifepak 1000 semi-automatic defibrillator from Stryker (formerly Physio Control) features two cutting edge technologies that help to increase the chances of patient survival. Built-in cprMAX technology is designed to maximise hands-on time by allowing CPR compressions to be given while the unit is charging for the next shock. The Lifepak 1000 also has the ability to increase the energy levels of subsequent shocks up to 360 Joules if initial shocks are unsuccessful. Designed for use by medical professionals, the Lifepak 1000 provides on-screen graphical guidance and delivers loud voice prompts to guide the responder with chest compressions, how to apply the electrodes and initiate a shock. This defibrillator is a robust unit with an IP55 rating and has undergone rigorous drop-testing.
Product Features:
Semi-automatic

 

unit - administers a shock at the press of a button
Supplied with one set of adult electrode pads, battery and soft pouch + exclusive extras
AED Defibrillator Responder Kit

 

available separately
5 year manufacturers warranty on the defibrillator unit
5 year battery standby life
18 month electrode pad life (from date of manufacture)
Daily and monthly self-tests performed by the unit
Ideal for use by emergency medical professionals
Large, clear LCD screen provides reference text and graphics
Built-in cprMAX Technology

 

maximises CPR time whilst the defibrillator is in use
ECG mode can be enabled when purchased with the 3-lead ECG cable
Audible prompts help to guide the rescuer on how to use the device and keeps them calm
High resistance to dust and moisture -

 IP55 rating

Escalates the energy shock level to 360 joules when needed
Holds usage information which can be transferred to a computer and analysed
Non-rechargeable battery

 

powers up to 440 shocks or approx. 17 hours of monitoring time
Can be used for treatment of children when used with the infant/child electrode (sold separately).
On- site AED Training Courses

 

are available to purchase separately
Please note: To utilise ECG mode on the Lifepak 1000, the 3-lead ECG cable (sold separately) must be purchased in addition to the defibrillator. The Lifepak 1000 is a replacement model for the Lifepak 500 defibrillator.