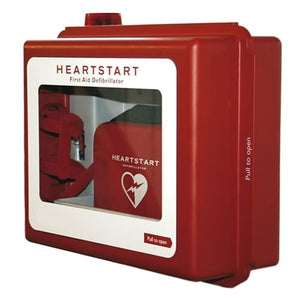 The Philips HeartStart wall cabinet is designed for indoor installations and features a clear front vision panel, allowing the responder to clearly identify the defibrillator in place. The cabinet is fitted with an audible alarm and light which activate when the cabinet is opened. As well as alerting others that an emergency response is taking place, these can also act as a deterrent from mis-use of the defibrillator. The cabinet's red design allows for quick recognition of the defibrillator's location.
Designed for storing the Philips HeartStart FRx or HeartStart HS1 defibrillators
Provides a central storage location for the defibrillator
Red finish allows for the cabinet to be quickly located in an emergency
Clear front panel provides high visibility of the defibrillator
Suitable for indoor installation
Defibrillator remains fully accessible
Fitted with audible alarm and warning light - triggered when door is opened
Deters unauthorised use of the defibrillator
Can accommodate defibrillators with or without a carry case
Please note: The defibrillator and devices shown in the image are NOT included.