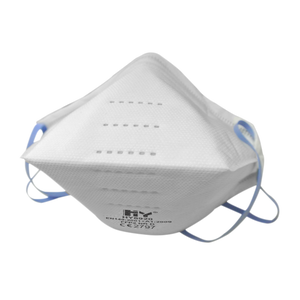 FFP2 protection level certified, HY 8920 FFP2 are a unvalved, single use, flat fold respirator.
Constructed from high-quality material, these HY 8920 FFP2 dust masks offer 94% filtration against harmful particulates. They fit effortlessly around any size or shape of face and can be worn comfortably for long durations. 
Designed with comfort and safety in mind, these disposable respirators create a firm seal thanks to their adjustable nose bridge. The elastic strap is held in place by a robust plastic clips ensuring the mask is secure at all times. Supplied in a box of 20 units.
Conforms to EN149:2001+A1:2009
• FFP2 mask with Assigned Protection Factor of 10
• Latex-free head strap to maximum the protection
• Horizontal Fold flat for easy storage
• Designed to fit comfortably on all faces
• Vertical folding design allowing for a wide field of view,
• Stays secure to the face
• Individually bagged for hygiene
• Adjustable nose clip 
• Soft inner nose foam for added comfor
• Compatible with other PPE
• Box of 20
Product Code: MCE130