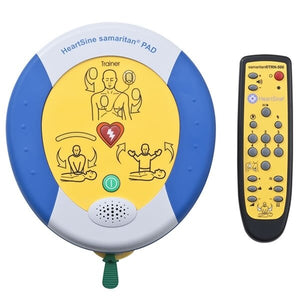 Designed to provides trainees with the opportunity to learn what to do in the event of a sudden cardiac arrest, the HeartSine Samaritan PAD 500P defibrillator has been designed to provide a realistic, hands-on experience, without the actual charge of an electrical shock. The trainer unit features 6 pre-programmed training scenarios for the instructor to choose from and provides voice and visual prompts much like the actual fully automatic 500P defibrillator. Powered by a rechargeable battery, this device can operate for up to 7 hours on a single charge and can be fully recharged in just 4 hours.
Provides a realistic experience of how to use the

 

HeartSine Samaritan PAD 500P Defibrillator
Mimics the actual defibrillator through voice and visual prompts and the valuable CPR advisor
Physical size and shape matches the actual defibrillator
Suitable for trainees of all skill levels
2 year manufacturer's warranty
Features 6 selectable rescue scenarios to ensure a thorough understanding
Audible metronome and flashing prompts help to establish the correct rate for chest compressions
Compatible with any standard CPR mannequin system
Supplied with one

 

HeartSine Trainer-Pak with Rewind Mechanism

 

and 5 sets of reusable training pads
Replacement training pads (without rewind Pak case)

 

available to purchase separately in sets of 10
Supplied with a remote control - allows the instructor to manage training as needed
Single remote can be used to operate multiple trainer units (within 3 – 5 metre range)
Soft carry case included for additional protection
Offers 29 language options to choose from
Powered by a rechargeable battery - operates for up to 7 hours on a single charge
Suitable for businesses looking to train employees or for qualified trainers to use during courses
Please note: This unit is for training purposes only and is not to be used for administering treatment. The HeartSine 500P trainer unit CPR advisor is intended for adult patient training only.