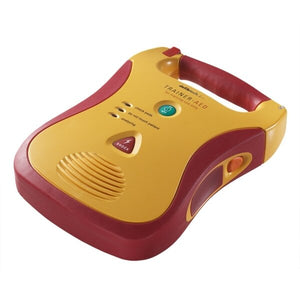 The Lifeline AED Trainer Unit is designed to simulate the actual Lifeline AED without delivering a physical shock making it safe for use during training sessions. The trainer provides a realistic training experience and is supplied as part of a package which includes a rechargeable battery, battery charger, adult training pads and a wireless remote control. The remote control allows the instructor to easily manage a range of training scenarios whilst also enabling the trainer to be configured as a semi or fully automatic device.
Simulates the actual Defibtech Lifeline AED defibrillator
Features 6 different training scenarios to choose from
Can be used in fully or semi-automatic training modes
Has the same look and feel as the actual defibrillator without delivering a shock
Supplied as a complete training packaging: includes

 

adult pads, battery, charger and remote control
Paediatric training pads

 

also available to purchase separately
Provides a realistic, hands-on training experience
Difference in rubberised exterior colour helps to distinguish the unit as the trainer device
Suitable for use on standard mannequins
Soft Carry Case

 

available to provide protection during transport
Remote control allows the instructor to manage the course as needed
Helps trainees to build on their knowledge, confidence and skills
Please note: This unit is for training purposes only and is not to be used for administering treatment.