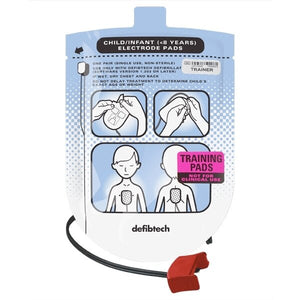 Designed for the practice of pad placement on infants and children, the Defibtech Lifeline Paediatric Training Pads are also designed for use with the Lifeline AED Trainer Unit and a standard CPR mannequin (not included). The pads are supplied as a pair in a sealed pack and feature a connector cable assembly for plugging into the AED trainer. The semi-adhesive design of these training pads allows them to be used multiple times so course participants can familiarise themselves with the correct emergency procedure.
Designed for use with the

 

Defibtech Lifeline AED Trainer Unit
Adult training pads also available
Sealed pack contains one pair of semi-adhesive pads
Allows trainees to learn how to position pads for an infant/child patient
Can be used multiple times for repeat practice
Same look and feel as the actual paediatric defibrillator pads
Suitable for use with standard mannequins
Connector cable assembly simply plugs into the AED trainer unit
Please note: These pads are for training purposes only. They are not suitable for administering treatment.