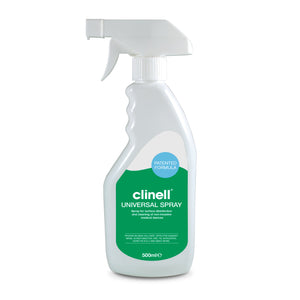 Universal formulation to clean and disinfect in a single step. Kills at least 99.999% of pathogens. Effective from 10 seconds.

The UK's most trusted single-step detergent and disinfectant formula; ideal for use on both surfaces and non-invasive medical devices. Our patented near-neutral pH formula ensures exceptional material compatibility and is proven to kill at least 99.999% of pathogens after 10 seconds, norovirus within one minute and reduce instances of MRSA by 55%.
Same formulation as

 

Clinell Universal Wipes, in spray format.
Meets EN1275, EN1276, EN12054, EN14245, EN14561, EN14562 & EN14563.
Proven efficacy against – MRSA, VRE, Klebsiella, Pseudomonas, TB, Norovirus, Hepatitis B & C. See the efficacy tab for full list.
Effective against Coronavirus in 1 minute.
CE certified class 11a medical device.
Neutral pH, safe to use on many types of material and surfaces.
Product Code: MCE078
Product code: CDS500