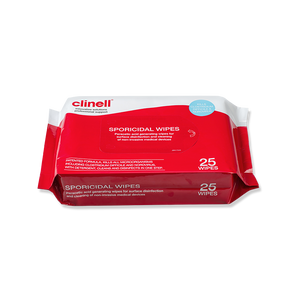 Clinell Sporicidal Wipes are used specifically for high level disinfection and to target Clostridium difficile. The wipes produce peracetic acid as the active ingredient which will kill all germ groups thus providing a direct and safe alternative to chlorine products. Designed for surface disinfection and cleaning of non-invasive medical devices. They are inactive when dry, and with the addition of water they immediately generate peracetic acid levels that are proven to kill all known micro-organisms.
Clinell Sporicidal Wipes are fully virucidal. They're also effective against coronaviruses in a 60 second contact time.
Validated against EN14476. Tested at Microbac Laboratory, a Biosafety Level 3 Laboratory in the USA. Both Clinell Universal and Sporicidal Wipes were tested against a virulent strain of human coronavirus, not a surrogate.
As both products are effective in 60 seconds, it's important to understand contact time. Contact time is the length of time the surface being disinfected must remain wet for the disinfectant to work
Both Clinell Universal Wipes and Clinell Sporicidal Wipes are formulated to keep surfaces wet for the whole contact time. It's important for users to remember to discard wipe they're using as it becomes dry or soiled.
Require no pre-cleaning
Are compliant with EN14476
Have a powerful disinfectant action
Effective against: A.baumannii, C.auris, Coronavirus, E.coli, MRSA, P.aeruginosa, VRE
Product Code: MCE077
Product code: CS25