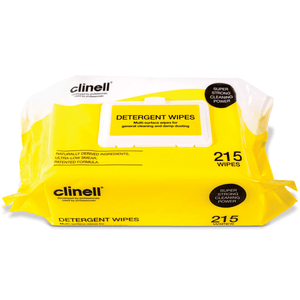 Incredibly powerful, ultra-low smear multi-surface wipes. Alcohol & disinfectant free. Patented environmentally friendly formula.
Wipes are ideal for cleaning hard surfaces such as beds, chairs, door handles, worktops, mattress covers, kitchen areas, walking frames, wheelchairs and many more.
These NHS approved Clinell Detergent Wipes are the ideal choice for any general, multi-surface cleaning or damp dusting. They feature a patented cleaning formula specifically designed for use in healthcare environments. 
One pack of Clinell Detergent Wipes
Pack contains: 215 wipes
Perfect for multi-surface cleaning or damp dusting
Approved by the NHS
Product Code: MCE072
Clinell Product code: CDW215