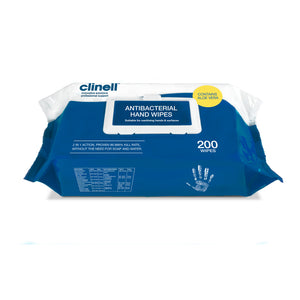 Clinell Antimicrobial Hand Wipes are some of the most effective antimicrobial hand wipes on the market. They clean and disinfect hands in one easy step, unlike alcohol gel rubs which sanitise hands but are unable to clean them.

Using a patented formula developed by medical doctors, they work in 10 seconds, killing at least 99.999% of germs. Developed for frequent use. Sachets are conveniently sized, individual sachets are perfect pocket essentials.
Effective against Coronavirus in 2 minutes.
Cleans and sanitises hands in one step.
Pocket-sized pouches, great for an on the go hand hygiene solution.
Dual Hand and Surface wipe now available.
Product Code: MCE063
CLINELL PRODUCT CODE: CAHW200