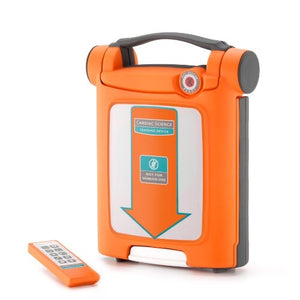 The best AED training available involves hands-on experience with a defibrillator. These Powerheart G5 trainer kits are designed to simulate different scenarios and allow the user to have a more realistic training experience. The training unit is supplied with a wireless remote control which allows the trainer to set different scenarios at the press of a button.
Powerheart G5 trainer kit
Simulates realistic heart arrhythmias
Clear voice instructions and metronome provide guidance
Supplied complete with adult training pads with CPR device
Wireless remote control gives the trainer control of the unit
Powered by 3 x C sized batteries (trainer) and 2 x AAA batteries (wireless remote)
Additional adult and paediatric training pads available
Please note: This is a training unit ONLY, it is not suitable for administering treatment. Batteries are not included.
Please note: There is presently a nationwide shortage of Cardiac Science G5 products. Unfortunately we cannot advise on a lead time for products that we do not currently have in stock so please disregard any expected dispatch dates.