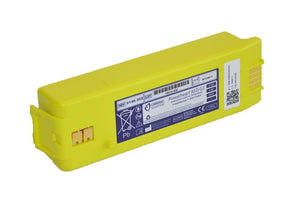 With a four year operational life, the IntelliSense non-rechargeable lithium battery is suitable for use with the Cardiac Science Powerheart AED G3 and G3 Plus defibrillators. The battery is easy to install with a snap fit design into the defibrillator.
Replacement battery for the Cardiac Science Powerheart AED G3 and

 G3 Plus 

defibrillators
Battery stand-by life: 4 years
Non-rechargeable - disposable after use
Easy to fit into the AED
Please note: The 'shelf life' of a battery is the length of time it can be stored prior to installation in the defibrillator without affecting the stand-by life. These batteries can be stored for 5 years from the manufacture date and still give a full 4 years of stand-by life once installed in a defibrillator.
Ref: Cardiac Science Powerheart G3 - 9146-302