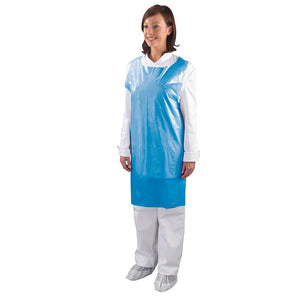 Our best selling flat packed, mid-range polythene aprons. They provide a high level of hygiene for low risk environments and are suitable for many applications such as the food industry, healthcare environments, laboratories, manufacturing, printing & veterinary.
Supplied in a self-presenting dispenser pack. This apron is approximately 2" longer than our value version offering better protection and is made from a heavier weight grade of polythene. Single use and manufactured in accordance with European Personal Protective Equipment Directive 89/686/EEC. CE Category 1 for minimal risks.
27" x 42".
100 aprons per dispenser pack, 10 packs per case.
Blue.