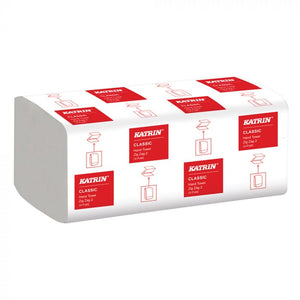 Soft tissue for pleasant and hygienic hand drying. Rapid and high capacity absorption for ultimate user satisfaction.
Touch-free dispensing prevents cross-contamination and improves the level of hygiene.
More convenient packaging: The Katrin Handy Pack.
Dispensing one towel at a time helps to control towel consumption.
Katrin product code: 45570
2 Ply Classic (Zig Zag) V Fold hand towel, providing a combination of economy and luxury feel for pleasant hand drying. Self presenting towels reduce cross infection and helps to reduce consumption. Supplied in a handy pack, the smart packaging with ergonomic grip makes them easy to store and move around. Suited to low to medium traffic areas and where a middle range hand towel is required.
Towel size: 230mm x 224mm.
4000 towels per case.
White.
Katrin code: 35298.
Compatible with the following Hand Towel Dispensers:
Katrin Inclusive Hand Towel Dispenser - White (PP1590).
Katrin Inclusive Hand Towel Dispenser - Black (PP1591).
Premium Hand Towel Dispenser - Large (PP9164).